Guest Post : Linn B Halton
Today I would love to welcome Linn to Eve's Chick Lit Reviews! It's absolutely lovely to have her here.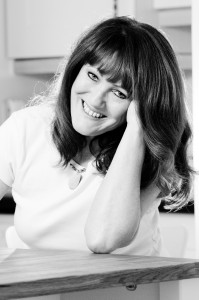 Photo courtesy of author
Linn writes contemporary women's love stories that reflect life, but you are always guaranteed an ending that won't disappoint!
Love, life and beyond… but it's ALWAYS about the romance!
Linn signed with US publishing house Sapphire Star Publishing in 2012; The Quintessential Gemini, a heart-warming romance was released in June 2012 and The Restaurant @ The Mill, a collection of life/love stories based around an old mill, was released in August 2012. Linn is a member of the RNA.
Linn also has two self-published books – Touched By The Light (a psychic romance that will make you think) and Being A Sceptic Is Oh So Easy (a diary of events/true story).
Linn is a featured new Author

loveahappyending.com

and also one of the Editors on the website's magazine-style blog.
How I came to write Never Alone...
Thank you Evelyn for taking part in my
Fiction Addiction Virtual Book Tour
to celebrate the release of
Never Alone
. It's a real pleasure to be here on Eve's Chick Lit Reviews!
Every author has a very different story to tell about how they came to write their novel. So I'd like to share my personal writing journey for Never Alone, which was completed back in June 2010. I began writing full-time in the spring of 2009. Like many other authors I had to wait a long time to be able to find the time to begin writing. A busy family life, then a full-time career kept me fully occupied and yet I never gave up on the hope that one day I would find that 'me' time. Unfortunately my mother became seriously ill and I gave up work to look after her in December 2008, she died unexpectedly just three months later. The decision to walk away from my career had been made easy for me, my mother came first. So it seemed like an omen - fate had opened up a pathway for me. My wonderful husband said 'go for it!' And that's what I did.
I have to say it saved me in many ways; I started to write whilst sorting out my late mother's affairs and it kept my mind from constantly dwelling on my grief. There were good days and bad days, but as the weeks passed I found myself writing late into the night. Sometimes I cried as I wrote, I missed her so much but I knew she was there willing me on and I had a job to do! I wrote solidly - five stories, one after the other and Never Alone was the final one. I had only submitted the first manuscript to a publisher, who took fourteen months to get it into print. It seemed easier to keep on writing until they needed some input from me. At that point I had no author website, I wasn't on Twitter or Facebook. I was clueless about the processes and didn't know anyone who wrote, let alone had any experience of being published.
It wasn't until I finished that last manuscript that I learnt about an 'author platform' and finding ways of interacting with all of those avid readers out there! I learnt quickly and launched my website on 13 December 2010. I joined Twitter and Facebook, thrusting myself into a new and exciting world! I feel very lucky to have had some lovely reviews and it's still a thrill each time a reader or reviewer is kind enough to post a new one.
Jump forward eighteen months and here I am! With the launch of Never Alone all five of my manuscripts are now on sale as ebooks and paperbacks. My fabulous publishers, Sapphire Star Publishing, brought out The Quintessential Gemini in June 2012 and The Restaurant @ The Mill in August 2012.
I decided to self-publish the other three manuscripts - Touched By The Light, Being A Sceptic Is Oh So Easy and Never Alone as it allows me to run free promotions from time to time. As a new author you have to build your fan base and I hope that the promotions mean I can reach people who might not have seen me before and can 'try out' a read for free!
I would describe my writing as contemporary women's romance. It's all about relationships and the pursuit of love, finding one's soul-mate! Three of my books have a fun and light psychic theme to add to the complexities of love and life. One of my books is the true story of why I now believe our loved ones are with us always, it's a diary really of the things I've experienced in my life so far. Life-changing moment and my thoughts on luck, instinctive feelings, deja vu and fate. But above all, when I write I want it to be positive, uplifting and have a happy ending that rings true.
And that leads me onto Never Alone ...
Holly Atherton has a seemingly perfect life, until suddenly it all beings to unravel. She has spent her life living up to other people's expectations of her, trying to please them.
She has it all - the affluent family who dote on her, a job she loves in her father's business, and the perfect boyfriend. Will is a successful entrepreneur and they are about to start enjoying a lifestyle many can only dream about. His latest business deal will see them with homes in the UK and Los Angeles.
But what if you wake up one morning and find yourself wondering whether the path you are on is the one you are supposed to be taking? Is she too caught up in pleasing her parents and Will to take her future into her own hands?
When Holly's psychic sensitivity begins to surface she doesn't know how to handle it. Vivid dreams seem too real to ignore and she finds herself 'talking' to Nick, the recently deceased brother of her best friend, Celia.
Just having someone to whom she can offload what she's feeling helps and she feels happier moving forward with Will into their exciting new future and all seems well... but, of course, life is never that simple...
I've enjoyed sharing my writing journey with you, thanks so much to my lovely host, Eve, and to you for dropping by!
To find out more about author Linn B Halton:
Website
A
loveahappyending.com
author
Signed by:
http://www.sapphirestarpublishing.com/linnbhalton
Twitter:
@LinnBHalton
Facebook:
Linn B Halton
Romantic Novelists' Association page
Amazon.co.uk (buy)
Amazon.com (buy)
Linn's giving away three copies of her new book, Never Alone. To enter, simply follow me on Twitter (@ChickLitterEve) and tweet me! Three lucky winners will be chosen. Competition ends on 31st January 2013.
Good luck, loves!